Canyoning Snowdonia Level 1
---
Level I Canyoning Snowdonia
Description:
Our level 1 canyoning trip can be done in ascent or descent. It takes place in one of Snowdonia's most accessible gorges.
An ascent would more commonly be called a gorge walk or gorge scramble. Gorge walking involves ascending  dramatic steep side gorges using a combination of walking, easy climbing, swimming, jumping and sliding. Half way along the gorge you can even shower under one of Snowdonia's most beautiful waterfalls!
If we take a direct line along the gorge we may use a rope to keep people safe on the steeper parts. This gorge can be escaped easily meaning that some of the harder sections can be bypassed if needed.
The level 1 trip can be done "canyoning style" meaning we go down the gorge making more use of the rope and abseiling some of the waterfalls. It is a good introduction to the techniques used in our other canyoning  adventures.
Level 1 canyoning is very popular with families but still a great experience for the less "gung ho" adults.
Price:
£40 per person.
Discounts for children and large groups.
Age Limit:
Dates:
Online Booking Form:
Downloads:
---
Images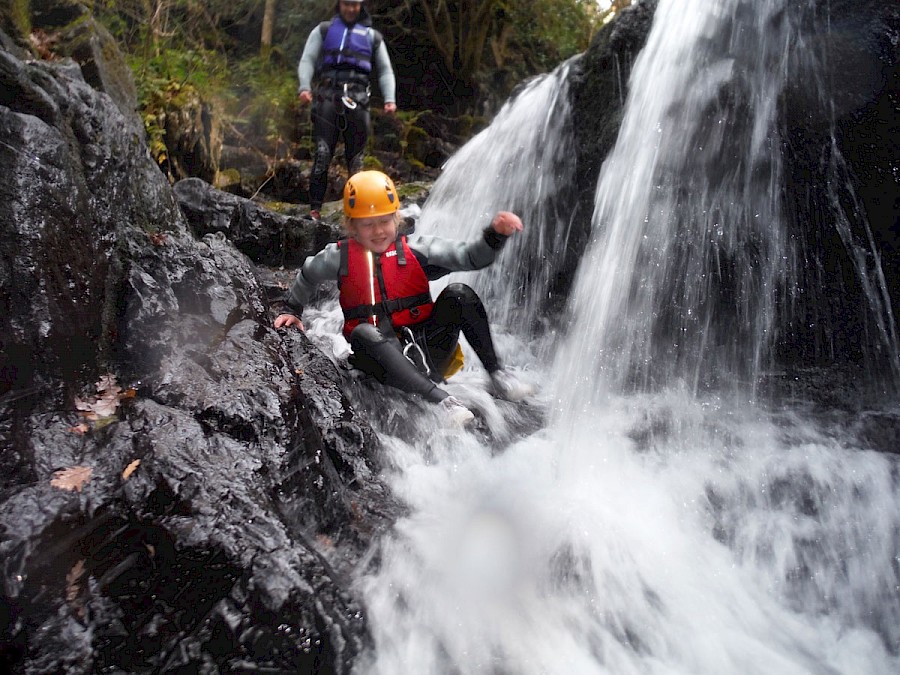 Canyoning Snowdonia Level 1
Canyoning Snowdonia Level 1
Canyoning Snowdonia Level 1
Canyoning Snowdonia Level 1
---